After dreaming and scheming for a few years, I finally got a DSLR! I mean, we got a DSLR.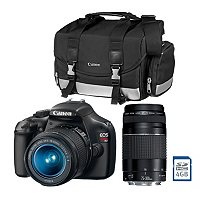 It's a Canon Rebel T3, and we got the kit so we'd have a few lenses. Right now we have the EF-S 18-55mm f/3.5-5.6 IS II and the EF 75-300mm f/4-5.6 III. I'd love a lens with a higher aperture – a 1.8 or 1.4 – but this is pretty sweet for a starter.
What this means is I'll be playing with it a lot, and hopefully translating that to more pictures on the blog. Of course it could mean I spend too much time playing, and not enough time to put up pics. Hard to say, really.